About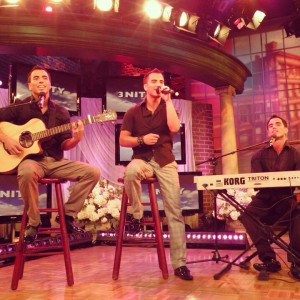 Triplet brothers Vincent, Romain, Sylvain, are half French from their father and half Balinese (Indonesia) from their mother. Together they form the band "3nity Brothers" (pronounce "trinity brothers").
The boys were born in Paris (France) and grew up there. Introduced in the artistic world in their early childhood (3 years old) through kids modelling and a bit of acting, it's only in their teen years (16) that the band was formed. Sharing a passion for music and drawing their main influences from American music (Soul, Rhythm & Blues, Gospel), they started all by themselves as autodidacts. At the beginning, their voices were their only instruments, so this is why their first compositions were made a capella. Soon, vocal harmonies turned out to be one of their main assets and a recognizable sound in their music.
Today the three brothers are not only talented singers but also songwriters & producers. Up to now, 3nity Brothers have performed in many countries around the globe (France, Indonesia, USA, Switzerland, Greece, Poland, Romania…) and are still looking to spread their music in other territories…
3nity Brothers may intrigue you now but their talent will amaze you even more!