Official release: "A NEW DAY", 3nity Brothers' new album is out today!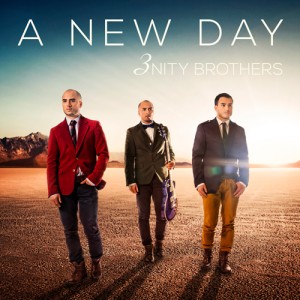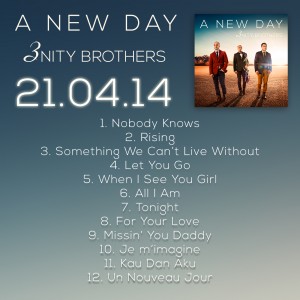 After a few months of work, 3nity Brothers are officially releasing their new album entitled "A New Day". It has been produced by 3nity Brothers themselves. The 12 songs were written, composed and arranged by the boys, except "Kau Dan Aku" (meaning "You And I" in Indonesian, lyrics by Josef Fierda Setia). The album totally reflects the band's values, with a message of Love, hope, happiness…
Listen and buy "A New Day" now on all the major download and streaming platforms:
iTunes: http://bit.ly/iTunesANewDay
Amazon: http://bit.ly/AmazonANewDay
Deezer: http://bit.ly/DeezerANewDay
Spotify: http://bit.ly/SpotifyANewDay
Google Play: http://bit.ly/GooglePlayANewDay
Other stores: VirginMega, Fnacmusic, OVI, RealNetworks, Musiwave (Microsoft Zune/XBox Music), eMusic, Music Net / Medianet, Rhapsody, VidZone, 7Digital, Shazam, Beezik, Simfy.com, RDIO, Aspiro Music.
Or, you can listen to snippets and buy from the player below:
-> Watch the Lyrics video of the first single: "Nobody Knows":
"Nobody Knows" is the Official Song of www.SchoolRoulette.me, and is published by oliver m.usic inc. publishing, Coole Schule Edutainment GmbH & Clem's 5 Ent.