While the song 'Say Something' performed by A Great Big World and Christina Aguilera is toping the charts around the world, 3nity Brothers have decided to make a cover of this emotional song with the beautiful and talented Safi County:
This song is available on  iTunes by clicking on the following link: Say Something (3nity Brothers & Safi County) and also on: Amazon, Deezer…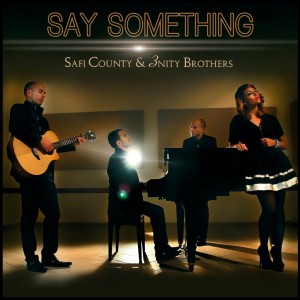 Please feel free to post comments on our website and on social networks (Facebook, Twitter, YouTube…) and share it as much as possible around you!
The boys are still working on their upcoming album. They are recording vocals at this very moment. Be patient, the release is due in a few weeks only.
Thank you all for your support!
FOLLOW SAFI COUNTY:
http://www.youtube.com/SafiCounty
http://www.twitter.com/saficounty
http://www.facebook.com/saficountymusic
http://www.instagram.com/saficounty